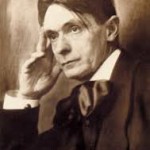 The gods of hindrance
On May 25, 2016 By RidzerdIn Anthroposophy
Imagine that you have a car to push. You develop your strength by pushing it. If heavy ballast is put into the car it will be heavier to push, but you would develop greater strength. Suppose the Godhead had let the world's evolution remain as it was, up to the time just after the Jupiter evolution, men could have certainly developed very well; but humanity could have become still stronger if hindrance had been in its way. For the good of humanity, certain Mights or Spirits of Motion had to receive adverse commands. These were not evil at first, one need not consider them as evil Powers, one might even say they sacrificed themselves by putting obstacles into the way of development. Therefore, these Mights may be called the gods of hindrance, of impediment, in the widest sense of the word.
Source: Rudolf Steiner – GA 110 – The Spiritual Hierarchies: Lecture 10 – Dusseldorf, 18th April 1909
Translated by Harry Collison